---
Here are three people who helped me survive the global psychotic phenomenon called "The Pandemic". During this time what we understood as the scientific method took a battering as a certain 'religiosity' about 'science' took over policy-making all over world.
[23 5 2022]
---
The great thing in criticism these days is that media resources allow the direct speaking subject. Here is Douglas Murray being interviewed Steve Edginton of The Telegraph:
[17 5 2022]
---
There is the assumption in a rationalist mind that ideas correspond to reality perfectly. This assumption lies at the basis of modernist medicine. What the rationalist mind does not know is that the scope of possible ideas correspond to the evident limits of the human intellect therefore it can never correspond to reality completely.
Ideas are limited by limits in meaning as imposed by a particular language as Wittgenstein tried to point out, harking back to the Socratic idea of the great unknown.
[17 5 2022]
---
"He occasionally gave a smart nod, as if in confirmation of some opinion, though he was not thinking of anything in particular." - Thomas Hardy
Excerpt from the first paragraph of 'Tess of the D'urbervilles'.
[9 1 2022]
---
The wish to bend the will of another and to exercise your own will over another, is the essential definition of violence.
It is a profoundly unchristian act because this is the very sentiment that underscores all the cardinal sins.
Political tyranny is a cardinal sin because the regime threatens violence to reduce the individual down to a role of unquestioning servitude. It is an unworthy life if induced into a drug administration regime.
[4 1 2022]
---
Poirot is meant to be a Belgian but he is actually quite English. He is gentle, despite his tough profession. He feels sorry for those around him like his frequent counterpart Chief Inspector Japp of Scotland Yard but deep down he values the affection, one of men who are true, men who understand each other.
[29 12 2021]
---
Tony Blair links inoculation with IQ. What about how people reacted to the invasion of Iraq? Apart from the idiocy, was it a conscionable act? Being accused of being unconscionable by those like Blair who are incapable of affective bonding is one of the most unpleasant aspects of how the mental dimensions of the world have become transformed in the last two years. Reason has been substituted by a strange new 'Media Think' where truths are pre-defined rather than manifest as facts. It is evident that a society of misfits have suddenly found a new purpose in the realm of collective absurdity. Civilisation's new illness is Mass Formation.
Listen again to Prof. Mattias Desmet:
[29 12 2021]
---
Joni Mitchell - Urge For Going (Live In-Studio 1966)
[29 11 2021]
---
Australia won the T20 Cricket World Cup in Dubai last Sunday. So what? It means they got lucky. Because T20, for all the hullabaloo, is essentially a lottery. There are obviously sound techniques to hitting sixes but there is at least a 60% chance that the ball will be caught at the boundary, based on how often batsmen get out caught trying the big shot. On a short boundary when the ball goes over, commentators say, "Great Shot!" On a long boundary when with the same shot the ball gets caught they will say, "He did not quite time it." Mind you, it is clear that some teams have the better players, so I'm not talking about mismatches but any one of the four teams who made it to the semi-finals, Australia, New Zealand, England and Pakistan could have won the Cup, depending on how fortune might have fallen. On paper, India remains the best team but Pakistan and New Zealand both beat it, knocking it out early out of finals contention. I suppose that's why as a sport, its unpredictability makes T20 cricket a good betting platform.
[17 11 2021]
---
The oriental system puts the year first, then the month then the day - logical - as do digital filing systems. The western system puts the day first then the month, then the year - logical - in the sequential sense of the how the mind works. I think it says a lot about the USA that they put the month before the day then the year, wear armour just to play a ball game and is the last colonial outpost to still use imperial measurements. Conventions can vary because nations are entities formed by a process of mass formation. Each nation has quirks that other nations find hard to understand. I mean what a weird creature is Jacintha Ahern, but within what seems like a particularly narrow-minded New Zealand style of mental operations, she evidently makes sense. She is the Great Leader; a term, ironically, that once was reserved for people like Kim Jong Un.
Here is Prof. Mattias Desmet to expound further on the Aubrey Marcus Podcast:
[6 11 2021]
---
"Concentrate every minute on doing what's in front of you with precise and genuine seriousness, tenderly, willingly, with justice. And on freeing yourself from all other distractions. Yes, you can if you do everything as if it were the last thing you were doing in your life, and stop being aimless, stop letting your emotions override what your mind tells you, stop being hypocritical, self-centred, irritable. You see how few things you have to do to live a satisfying and reverent life? If you can manage this, that's all even the gods can ask of you." - Marcus Aurelius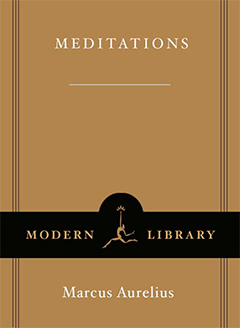 [30 9 2021]
---
If the world wants to proceed by mandates for the good of all, why not mandate baptism? At least it would come with certain guarantees.
[17 9 2021]
---
Why is David Suchet's Poirot the only one that convinces?
David Suchet's Poirot is the only one that convinces because David Suchet creates character in the manner of the true actor thereby presenting to the audience a real person, a Belgian citizen, a retired policeman, whom war forces to seek refuge in England, eventually to become her greatest detective, a private practice in Her Majesty's service. He grows to love the country, its great sense of manners, the propriety and the foibles of her people. He saw through society's darkest side with his immense sense of mirth but above all he appears to us on the television screen as himself, without a hint of any dramatic exaggerations in his foreignness. His art, as Suchet says is in making that person that the writer seems to intend become real, not only but Suchet makes him immensely appealing as a humane being, quite apart from his beautiful European manners. So you assume that the guy is just being himself, or at least he gives us that illusion. And that, as they say, is Theatre.
[04 29 2021]
---
"I am a camera with its shuter open, quite passive, recording, not thinking. Recording the man shaving at the window opposite and the woman in the kimono washing her hair. Some day, all this will have to be developed, carefully printed, fixed." (from Goodbye to Berlin, 1939) Christopher Isherwood
[28 3 2021]
---
All those imposing buildings in the financial district are out of bounds. Why? Because these buildings have not been designed to circulate fresh air. The standard air conditioning designs recirculate around 80% of used air- chilled - giving the impression of freshness but in reality they are virus incubators.
[12 3 2021]
---
Sometime before the audacious chef went too far, there was a thing called national cuisine, which every mother knew how to prepare. Every citizen of that nation ate more or less the same things in their homes, at more or less the same hours. There was a shared culinary grammar out of which dishes developed their names and the name itself caused the senses to evoke a particular taste and the accompanying appetite and expectation.
[15 12 2020]
---
Political success is about making sure you hold the centre of attention. Obama did this until his second term revealed his essential hollowness of vision. It is now Trump. People can't stop talking about him. Every thing is his doing. For some he makes America great. Others say he is the worst human being who has ever lived. He is loved and hated to degrees unprecedented for a US President. The love is in seeing a figure willing to confront the intellectual deceit of the social justice obsessions of the left. On the other hand there is a sort of unreckoned hatred mostly expressed with vitriol on Facebook. These are not concerns about being wrong or right about policy. It is pure irrational loathing. It is sparking a concern that perhaps Trump has unwittingly created a new unnamed psychosis. For these people Trump has become a mental disease where a blond monster towers over existence itself, making life unbearable. How does this happen in the brain? What is it about Trump that creates this extraordinary reaction?
[28 10 2020]
---
Yanis failed as an economic minister and decided to become a celebrity academic. Not a practical chap but good at talking. He is always criticising but do you have a plan for Greece, Yanis?
The difference between JV and JP surely can be explained by the workings of faith - i.e. the appreciation of the great unknown. JV is a scientist. JP is an artist. JV is essentially a skeptic. JP is a believer. JV wants to work something through the empirical domain while JP needs to work his faith through the hands. There is really a great difference in the take on the subject. I don't think a mediation is actually possible.
[27 8 2020]
---
In the difficult task of imagining a world changing event like the assassination of a political leader, Karl von Piloty shows both restraint and verve. He limits the dagger to just one, as Servilius Casca sneaks behind Caesar, emphasising thereby how Julius was stabbed in the back so to speak. This painter, whom I just discovered today shows an amazing mastery of poetic expression over the mere depiction of content. The look of surprise in all the faces recall the apostles in Da Vinci's 'Last Supper'.
[22 8 2020]
---

Kurosawa's American Movie

[19 5 2020]
---

Be proactive
Begin with the end in mind
Put first things first
Make win win situations
Seek first to understand, then understood
Synergise
Sharpen the saw

[13 1 2020]
---
From British Independent film 1970 adaptation of Shakespeare's 'Julius Caesar'
[11 10 2019]
---
Twisting the fabric of reality
Dezeen = Design?
The BBC is promoting yet another show-off event by the trendies promoting misguided delusions about the nature of architecture and beauty completely misleading the public about the problems of the modern city. "Exploring urgent issues in design"? My foot! Here is presented (for the n'th time) all the dangerous set of naive presumptions about 'Good Design' being the key to our future happiness. Modernist cities have historically twisted the fabric of reality to suit what is by now an anachronistic set of dysfunctional utopian propositions. Despite all the horrendous problems that modernity has wrought, trendy people would still want to twist the fabric of reality. The ironical title should already warn you as to its content. These events always skirt around real issues in building construction in order to promote the necessary sense of unwarranted optimism. Beauty is something applied on the form and it is not an intrinsic quality in shapes. Modernist design are all about ideology and shapes. You can't solve the problems of the perception of beauty and good living neither with ideology nor with just shapes.
If you can bear it please click on the image for the article in question: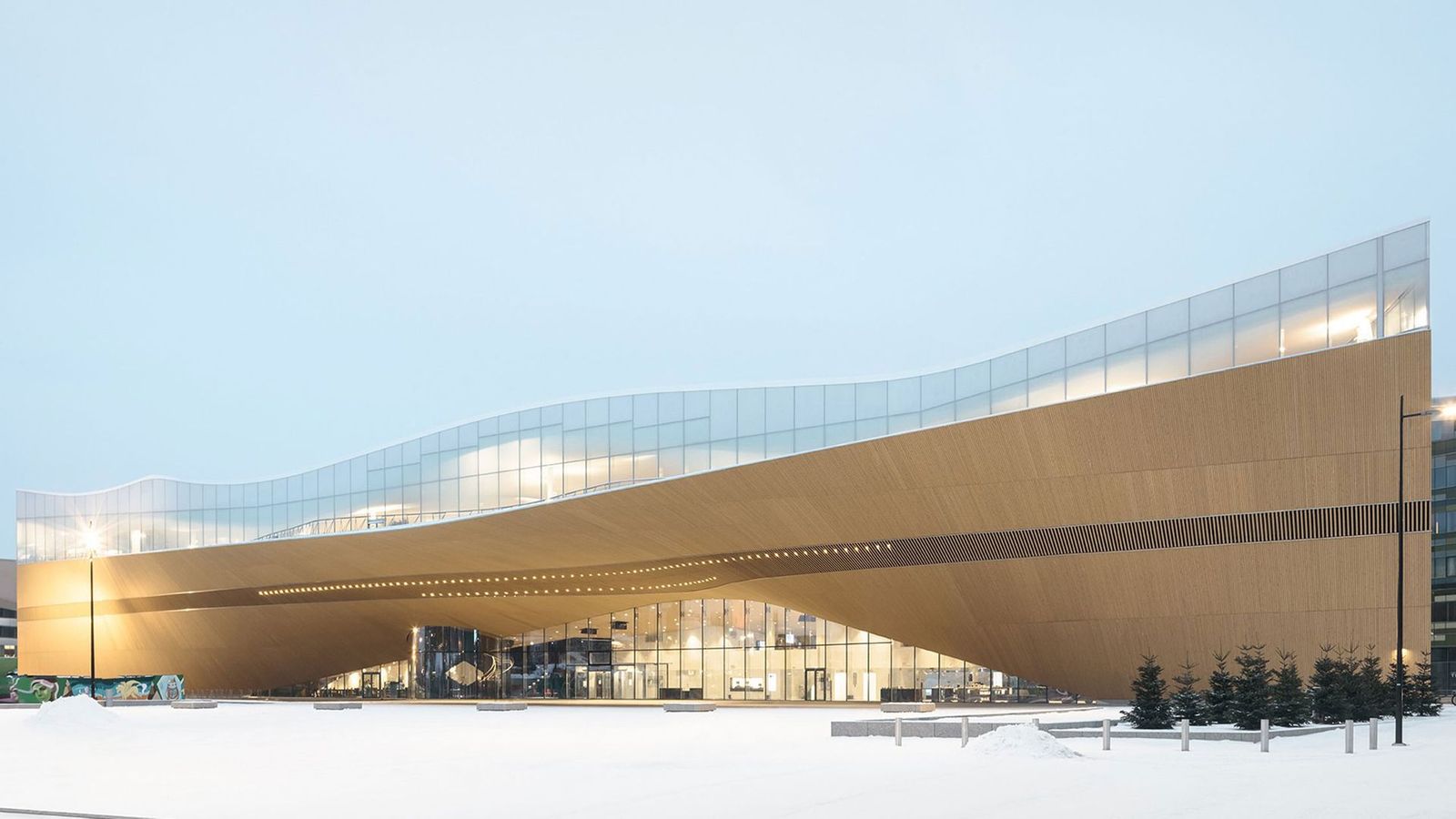 [23 9 2019]
---
If you go to the YouTube page of the embedded video below of the demolition using explosives of Ponte Morandi, Genoa, you may see my comment in Italian:
Il Modernismo è finalmente morto. Hurray for the world! Reflettiamoci se ha veramente bisogno di avere un ponte nuovo proprio qua. Se fossi io sindaco di Genova, farei un bel respiro forte e pensarei alle interesse vere del mio popolo che ha vissuto sotto un vero mostro della modernità tutti questi anni e magari meritano una visione nuova del bel cielo senza l'ostacolo. Pensiamo un momento delle vittime - morti senza spigazione smeritatamente ma loro sfortunati destini erano già segnati dalle decisione presi dai vari presuntuosi progettisti, professionisti che erano motivati di provare un sistema così detto 'innovativo' dalla voglia di sembrare genii anziche assicurare una totale sicurezza senza l'equivoco di dover essere perpetualmente controllato e mantenuto essendo un sistema di sospensione da acciano - un materiale che rugginisece! L'esperimento  fallito, ovviamente, se depende all'uomo, ormai sappiamo benissimo che la garanzia non c'è. Ma la sicurezza della strutture era solo uno dei tanti altri problemi, principalmente quelli urbanistici - di avere migliaia dei veicoli che passano ad una altezza notevole sopra le teste dei abitanti e di avere spezzato in due la forma della città stessa. Daremo onore ai sacrifici delle vittime se la qualità di questo quartiere facesse una svolta nuova, diventare un quartiere vivibile e traquillo e bello - Per favore Sindaco e L'Autostrada SpA, Vi prego, non facciamo più compromessi o altri sperimenti al costo della vita dei cittadini. Diamo la priorità alla forma integra della città in pianura. Pensate di spostare la viabilità alle colline lasciando integra e tranquilla la parte vissuta. La città  la vita! La sua qualità, a cosa depende se non alla sua architettura? Adesso è un momento di potenziale, sia per il bene sia per il male. Cari collegi professionisti di strutture, decidete meglio questa volta - non solo alla sicurezza strutturale ma, per favore, non perdete questa grande opportunità di restituire alla Genova la sua integrità urbanistica, riunendo, come era sempre nella storia, la sua splendida pianura senza ostacolo dalle montagne e il mare.
Translated by Google:
Modernism is finally dead. Hurray for the world! Consider if you really need to have a new bridge right here. If I were the mayor of Genoa, I would take a deep breath and think of the true interests of my people who lived under a real monster of modernity all these years and maybe deserve a new vision of the beautiful sky without the obstacle. Let us think of a moment of the victims - deaths without expedition sentimentally but their unfortunate destinies were already marked by the decisions taken by the various presumptuous designers, professionals who were motivated to try a system so called 'innovative' by the desire to look like geniuses instead of ensuring a total security without It is a misconception that it must be perpetually controlled and maintained as a suspension system to be lit - a material that rustles! The experiment failed, obviously, if it depends on man, we now know very well that the guarantee is not there. But the safety of the structures was just one of many other problems, mainly urban ones - of having miles of vehicles flying over the heads of the inhabitants below and breaking the shape of the city in two. We will honor the sacrifices of the victims if the quality of this neighborhood made a new turn, become a livable and quiet and beautiful neighborhood - Please, Mayor and L'Autostrada SpA, please, do not make any more compromises or other experiments at the cost of living citizens. We give priority to the integral form of the city on the plain. Think of moving the roads to the hills, leaving the lived part intact and peaceful. The city is life! On what does this quality depend if not its architecture? Now is a moment of potential, whether for good or for evil. Dear professional colleagues of structures, decide better this time - not only for structural safety but, please, do not miss this great opportunity to give back to Genoa its urban integrity, bringing together, as it always was in history, its splendid plain without obstacles from the mountains and the sea.
[28 6 2019]
---
"It has taken years of adult life to realise how not to take Democracy for granted for what it takes to undermine it is human nature itself. The nation that took it from an abstract notion invented by the Greeks to actual practice is the United States of America. If American history is of any interest at all, it is for this reason."
[19 6 2019]
---
Do you Say you believe in God or do you Act like you do?
According to Jordan Peterson:
"To be able to accept the structure of existence, the suffering that goes along with it, and the disappointment and the betrayal, and to nonetheless act properly, to aim at the good with all your heart, to dispense with the malevolence and your desire for destruction and revenge, and all of that, and to face things courageously and to tell the truth, to speak the truth and to act it out: that's what it means to believe," he said. "That's what it means. It doesn't mean to state it. It means to act it out. And unless you act it out, you should be very careful about claiming it."
[5 6 2019]
---
"The solution to the problems of life is seen in the vanishing of the problem... Whereof we cannot speak, we must pass over in silence."

Ludwig Wittgenstein
[27 5 2019]
---
[19 4 2019]
---
What is in a name?
Not that I expect my audience to understand the beauty behind the brutality of a contact sport like Australian Rules Football but as the highlights of a recent game between Sydney and Melbourne were unfolding I heard the commentator mention two names distinctly: Proust and Petrarca.
[16 4 2019]
---
A case against moving the clock forward
Satchin Panda: "Every organ and even every cell in our body has circadian or 24 h clock. Circadian clocks turn on and off thousands of genes at the right time of the day or night. These rhythms work together to maintain healthy balance of brain chemicals, hormones, and nutrients. When our rhythms break down we are more likely to suffer from a wide range of diseases from depression to cancer."
[4 4 2019]
---
Sam Curran's last over heroics
King's XI Punjab vs Delhi Capitals, 1 4 2019
[1 4 2019]
---
The role of the psychoanalyst and big business in making people buy things they don't need
Sigmund Freud's nephew, Edward Bernays, was instrumental on convincing women that smoking was a symbol of female emancipation. They called a lit cigarette a "torch of freedom". The fact is women went along with this new image of the female smoker without realising that they had fallen for a canny advertising campaign financed by the cigarette companies.
[21 3 2019]
---
Marshall McLuhan was wrong when he said everyone will be famous for 15 minutes. Youtube is full of narcissist who will be famous for only 15 seconds, which is about the timespan needed to assess the validity of their desperate attention seeking.
The problem with narcissism is something artists have dealt with for centuries but it is a new thing for journalists. There is a broad social acceptance of narcissism in architecture. It is ugly but no one protests so that's strange. Just take a look at the modern city where the buildings express very clearly all the reality distorting qualities of a pathological neurosis. It is chaos.
In journalism, political polarisation is the result. It is a chaos of competing opinions. No citations needed. Just the raw power of indignation. As if the right to judge is embedded in the idea itself because good or bad, it is progress!
It is not the fault of journalism if no one reads anymore. It is the times of the cursory glances through memes, mainly to assuage prejudices and an intrinsic sense of misanthropy. Online crowd-funding has become a career move for narcissists of every stripe but it seems like a lot of stylised begging. Even there, according to the Pereto principle, all the attention accrues to the top one percent.
[5 3 2019]
---
The following excerpt from an essay about Xenophon by Eva Browning makes Socrates sound a lot like Jordan Peterson:
https://aeon.co/essays/the-ancient-greek-rebel-leader-who-saw-socrates-solo-dancing
"Another surprising side of Xenophon's Socrates is shown through his encounter with a person who not only doesn't honour the gods, but makes fun of people who do. To this irreligious person, Socrates presents a careful and persuasive line of reasoning about the designed usefulness of all elements of creation. For humans and many other animals, there are 'eyes so that they can see what can be seen, and ears so that they can hear what can be heard', eyelids, eyelashes, molars and incisors, erotic desire to aid procreation; all these are 'the contrivance of some wise craftsman who loves animals'. And what about the cosmos as a whole? 'Are you, then, of the opinion that ... those surpassingly large and infinitely numerous things are in such an orderly condition through some senselessness?' Human beings even have the spiritual capacity to perceive the existence of gods, 'who put in order the greatest and noblest things', and 'they worry about you!'

It is noticeable that this Socrates takes his conversation partner through logical steps that are not designed to refute him or humiliate him, but to awaken him to a different way of looking at the natural world. He already acknowledges that there are ordered systems of utility and benefit in nature; he just needs to think about how these could have come to be, and why, and to what end. It's not brow-beating, but gentle leading, which leaves his intellectual self-respect intact. This is a hallmark of Xenophon's Socrates. Through such conversations as these, Socrates showed his commitment to leading his companions toward virtue, making them better human beings - the highest aim of any leader, in any field."
[29 12 2018]
---
Roger Scruton and Jordan Peterson met and spoke
[14 1 2019]
---
This is a nine hour Audiobook version of Will Durant's story of India

[14 1 2019]
---
The incredible thing is that those who so proudly declare their general disdain of traditional religious values become 'then' solely attached to conventional political beliefs as the only 'believable' system of belief that there is, because they believe that human conduct is based on laws passed by acts of parliament, on behalf of their democratically represented voters. This implies that by taking over the parliament, you take over life itself. That was the very problem with communism. It ended in murder. It is a matter of majority rule and with their faith in this fragile method, they are absolutely convinced that they are right 100%. They don't have any idea how boringly predictable this particular pattern of behaviour is; based as it is on a deeply flawed presumptiousness. How would the parliamentarians elaborate their arguments for the debate on the proposed legislation on murder, let's ask, were there not already a higher law that says "Thou shalt not kill"? The presumption here is quite an irrational one because it supposes that there are no such things as foundational principles nor the 'will towards the good' upon which a thing like democracy sits, without which it sinks. In the order of things, democracy cannot create the thing which produced it nor the thing on which it sits. This proves that there is something both below and above politics in the hierarchy of creation. Now what is that thing? Perhaps it is Earth itself, to which one day we all have to return. It is the layeredness of Earth which makes one suspect that there is more going on there than meets the presuming eye.
[29 12 2018]
---
One of the strong points of early modernist art as expressed through anarchistic congregations such as the Bauhaus and the Dadaists was the celebration of the absurd and the dangerous. These events were posing answers to Nietzsche's overman challenge. Disaster ensues just as predicted because human beings cannot create their own values since we cannot have created ourselves. Some greater force rules our hearts, just as it says in the Bible and in the annals of all the classical mythologies.
So what happened was absurd - yet so much trust was betrayed - in the realms of art. Well, is a bridge a work of art? Is a modern war a work of art if all there is to do in life is to celebrate the absurd and the dangerous?
Our interpretation of the Bauhaus Dadaist thing is that they were having a bit of fun but that they were essentially harmless. Nowadays modernism is treated so seriously, quite against the actual intent of pragmatic modernism, by which I mean things like aeroplanes.
But the thing fell. It could not be any other way. Obviously somebody who didn't know everything but thought he did, went ahead and designed it. The plan was in perfect execution with its essentially faulty attributes intact towards the inevitable, if unintended, tragedy.
[7 9 2018]
---
I think in 'Anthem' Leonard Cohen is discussing the actual (not the ideologised) structure of the reality of our times - a kind of social entropy - the result of modernism and its so called radical, certainly ironical but very impractical views on permanence.


The birds they sang
At the break of day
Start again
I heard them say
Don't dwell on what
Has passed away
Or what is yet to be
Yeah the wars they will
Be fought again
The holy dove
She will be caught again
Bought and sold
And bought again
The dove is never free

Ring the bells (ring the bells) that still can ring
Forget your perfect offering
There is a crack in everything (there is a crack in everything)
That's how the light gets in

We asked for signs
The signs were sent
The birth betrayed
The marriage spent
Yeah the widowhood
Of every government
Signs for all to see
I can't run no more
With that lawless crowd
While the killers in high places
Say their prayers out loud
But they've summoned, they've summoned up
A thundercloud
And they're going to hear from me

Ring the bells that still can ring
Forget your perfect offering
There is a crack, a crack in everything (there is a crack in everything)
That's how the light gets in

You can add up the parts
You won't have the sum
You can strike up the march
There is no drum
Every heart, every heart to love will come
But like a refugee

Ring the bells that still can ring
Forget your perfect offering
There is a crack, a crack in everything (there is a crack in everything)
That's how the light gets in

Ring the bells that still can ring (ring the bells that still can ring)
Forget your perfect offering
There is a crack, a crack in everything (there is a crack in everything)
That's how the light gets in
That's how the light gets in
That's how the light gets in
[24 9 2018]
---
Jordan Peterson, Maps of Meaning 8, 2017:
[25 5 2018]
---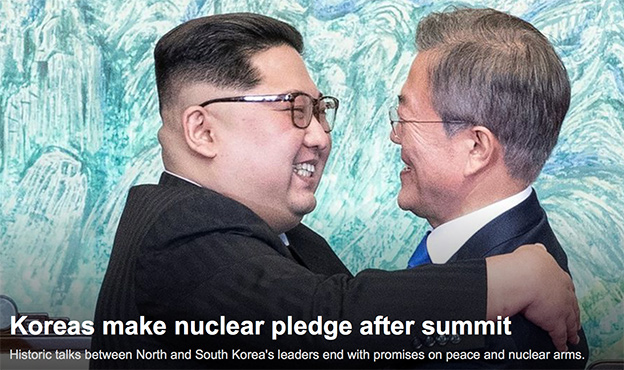 The man on the right is the current President of South Korea who has a very similar liberal personality to Paolo Gentiloni, the current Prime Minister of Italy. On the left is the grandson of the man who was placed in power by Stalin in 1945 to impose communist rule in Northern Korea. My family was displaced from their history and property and escaped with millions of others to the South but hey, no hard feelings. Peace? I say go for it! I'm just amazed at all the symbolisms and the hand holding involved. They talked about the quality of Naeng Myun (Cold Noodles) sitting across a table specially made for the event measuring 2018mm in width. After the chat, they went and planted a tree together, an act of great poetic significance to all Koreans.
[27 4 2018]
---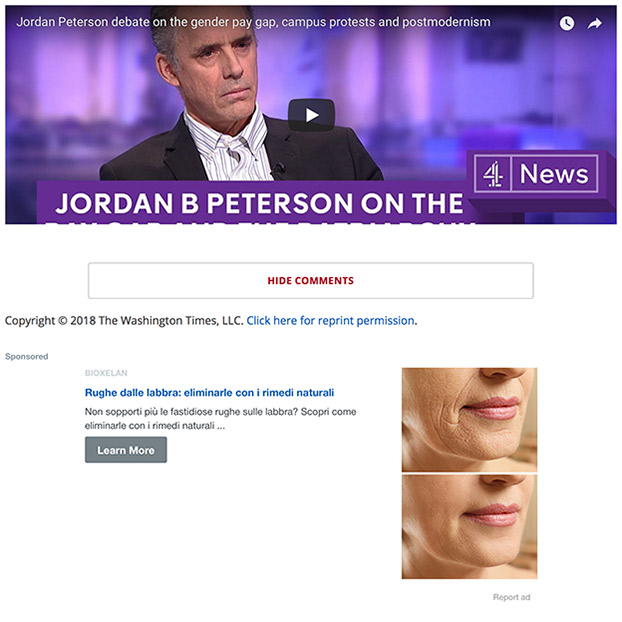 The image comes from a webpage, obviously, taken from a screenshot at the Washington Times reporting an interview between Jordan Peterson and the BBC journalist Cathy Newman. The conversation gets a bit rough but I've never seen anyone display as much composure under fire as demonstrated by Dr Peterson. Amazing! It is a historical document that will help us push forward. The world is trying to reconcile its differences and everyone, at least in the West, is thoroughly confused but surely the approach promoted by JP of being true to facts and so to treat yourself factually as though you were someone you cared about, simple as though that message may be, it is the key. As to what might be the problem with people in general, this is better illustrated by the random advertising at the bottom than the article itself. What is a facelift, if it is not a disguise? What is a disguise? What do people want to hide if not their true selves and even from themselves? Why would you do that? JP might say, "Read the canonical works closely, pay attention and you might just get an answer."
[18 1 2018]
---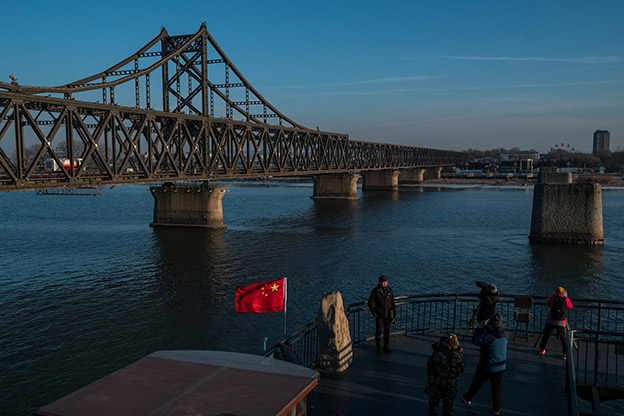 This bridge that connects China or more specifically Manchuria with North Korea is in Dandong or An-Dong as my father used to say it was called in his time. He was born here during the time when that border between the two nations was not necessary as both Manchuria and Korea were under Japanese rule. I'm not even sure whether this is my paternal ancestral home because my grandfather was a government official - a policeman - as I understand and being ethnically Korean maybe he was assigned there rather than being from there. When Japan surrendered, all hell broke loose as the Korean communists aided by the Soviet army moved in to take over the northern part of the peninsula. They created a crime punishable by death - that of having collaborated with the Japanese oppressors. My family dropped everything and ran.
My father told me when the North Koreans invaded the South in 1950, he was trapped in Seoul hidden in a cellar as North Korean soldiers foraged the city for ex-collaborators escaped from the North. He had not eaten properly for six weeks when he heard the shells from General MacArthur's ships off Inchon harbour and he knew he was saved. The world is watching this bridge as it is one of the main trade corridors between China and North Korea. It is being watched closely by the world on account of the economic sanctions.
[17 1 2018]
---
There is a theory that sports is all about winning. This belittles the complexities involved in whipping a ball around from hither to thither just for the fun of it. Whole cultures develop around this very fact depending on what kind of ball we are dealing with and to what aim the ball is deployed. The ball is sometimes tossed but in all cases it gets whacked in one way or another. When the ball is missed, it whacks into some sticks, a glove or in its most sensual, into a net. So much of the interest centres around how the ball is manipulated as it is being handled or hit, making such manipulations forms of art for which certain people have an above average aptitude, even talent, absurd as this idea may seem.
Sports that do not use balls are invariably races to see who can walk, run, swim, jump, pole vault, cycle or drive faster than the next guy. Whole cultures develop around things like motor racing and cycling, not to mention the muscle flexing communities built around athletics stadiums and boxing rings. Two grown men try to knock each other senseless and the point of this exercise can only be explained by the Holy Bible.
[8 1 2018]
---
On the issue of religion, two public intellectuals, Terry Eagleton and Jordan Peterson would find many common grounds, especially to do with the idea of the embodiment of spirit. Where they depart would be on the legacy of Karl Marx to the modern world. To me why it came to be that Marxist theory is the only one that represents the idea of economic injustice is the crucial point.
Someone ought to put these two outspoken scholars together so that they can thrash out a way for the world to move forward, hopefully arriving at greater clarity about the competing social paradigms in the world today.
[23 11 2017]
---
Not much need to be said here about the relationship between power and guns but who took this picture?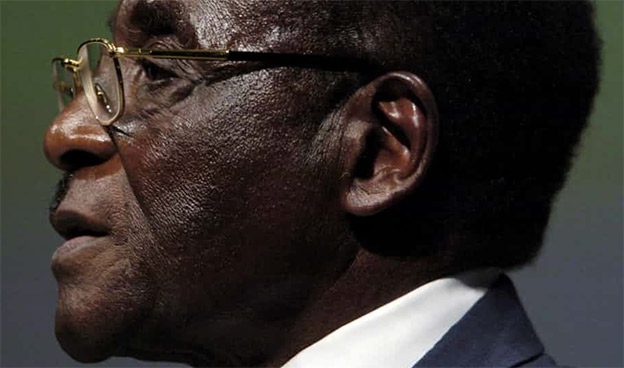 [23 11 2017]
---
A Test match between Sri Lanka and India, in the context of today's sporting dynamics in world cricket, could be considered as a commentator might say, 'somewhat of a David and Goliath struggle', yet:
"As the Philistine moved closer to attack him, David ran quickly toward the battle line to meet him. Reaching into his bag and taking out a stone, he slung it and struck the Philistine on the forehead. The stone sank into his forehead, and he fell facedown on the ground. So David triumphed over the Philistine with a sling and a stone; without a sword in his hand he struck down the Philistine and killed him." - 1 Samuel 17
Cricket is a game of crafted guile and the appeal of the game is that it is played on a grassy field on a natural lawn based surface which has a markedly variable effect on how the ball behaves as it is delivered to be hit. So given the unpredictability of the playing conditions it isn't always the evidently stronger team that wins. While a team like India has too much talent not to be the overwhelming favourites, the thrill of the game is to see the lesser team come through by being on top form with those technical qualities that the game permits. Some luck and concentration and a bit of cunning can cause what is called in sports an 'upset'.
[16 11 2017]
---
From the conflicting reports, it would appear that a badly named fad has hit the barrier of scientific uncertainty in its promulgation. In this new mood, the biggest fears are about the funding cuts and loss of jobs in the hastily constructed 'climate change industry' rather more than humanityÕs imminent demise. People are back-tracking everywhere statements made with so much certainty only a dozen months ago. Just as well because it is not that the alarmists then proceeded to offer practical solutions apart from encouraging people to construct unsightly solar panels and windmills everywhere in the name of green ecology, which primitive science taught me is a factor that is mitigated by the quantity of trees. So the solution was always clear but who wanted to mention solutions. People make money when there are problems not when there are solutions. Wars, famine, sickness, migration, various small fears, etc.. Think about it. How good can it be to keep pumping the atmosphere with toxic fumes in any case, or dumping the soils with rubbish and waters with poisonous chemicals, change or no change? Let us go back to treating the first idea promulgated in the seventies of the less grandiose but the more real concept of Environmental Pollution. To the set of real problems I would add modern architecture and its consequent results of urban degradation.
[26 10 2017]
---
I would like to ask Jordan Peterson whether the American Dream would be Freudian or Jungian? Could the psyche be materialistic a priori? Psychologically speaking, could a dream predicate happiness on material success? Given that great quantities of equipment and appendages are essential to even a simple American life, I guess material success is an absolute value - so could one dream about that - rather than something more transcendental?
In my dream, while cruising in my shining new and hard-earned Chrysler, I see a fashion model. She personifies the reward for achieving material success as a pre-requisite to happiness. I am miffed when she looks past me to where a Bentley has just pulled up, discharging a famous actor. She starts to walk towards him. She hasn't just ignored me, she hasn't even seen me because she steps right in front of my car! Shit! I don't mean to kill her, I really don't. Miraculously since this is a dream, at the moment of possible impact, the car lifts off. In the next scene the car has become a private jet. In the jet as I sip on my champagne, the attendant asks if I am all right. I quip, just to start a conversation, whether she too may be an archetype I could use for future reference. In dreams, things begin, become even lurid then terminate without resolution. Who are these women? Where are they now? Totally unrelated but I remember a deep dream where I have just been awarded a huge architectural commission, good cheer all around then suddenly feeling this limp handshake I wake in fright.
[23 10 2017]
---
What is new, in the linked The Guardian article below, is that its author John Rapley has only just realised something which John Calvin knew all those years ago in formulating his totalitarian protestant state. Yes, religion seems to be very much about money and how it is made, managed and used in the world of human beings. So in this sense Rapley uses the word religion appropriately enough but he does not point out that economics is not just about money. The root Greek word 'oikonomia' is the art of running a home, not administrating over a church, but in pointing out the similarities between the power structures and doctrines of religious institutions with the realpolitik and business practices of our times is most relevant and timely to point out. Rapley is an progressive optimist and in making an optimistic conclusion he cannot seem to see in wanting economics to 'serve' and not 'dominate', he is merely echoing the central tenet of Marxism - in itself interpreted by the intelligentsia 'religiously' and much debunked also in that spirit.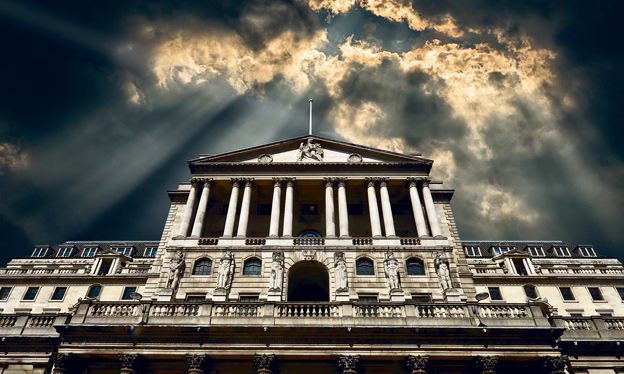 - THE GUARDIAN: How economics became a religion
Its moral code promises salvation, its high priests uphold their orthodoxy. But perhaps too many of its doctrines are taken on faith. By John Rapley -
[11 7 2017]
---
It will remain the greatest of Cricket paradoxes that the world's top three batsmen: Virat Kohli, A B de Villers, Chris Gayle were in the batting line-up of the team who just managed the lowest ever score in the nine year IPL history.
Kolkata Knight Riders: 139 (all out) | Royal Challengers Bangalore: 49 (all out)
[23 4 2017]
---
I don't subscribe to SkyTV. I don't want to pay for TV but I do miss things like Formula 1 and international cricket matches televised in HD. Watching the replay on Youtube, I realised that Vettel was compromised by the entry of the safety car at the wrong time. Despite effectively losing half a minute to Hamilton in this way. He finished just 6 seconds off Hamilton after providing all the thrills in the race with some superb overtaking. In sport there is no such thing as a 'moral' victor but Ferrari and Vettel wouldn't have felt so bad afterwards.
[10 4 2017]
---
I saw this film last year. Last night at the awards evening for Italian cinema it won the 'David' for best film: David 2017
Fittingly the star of the film, Valeria Tedeschi Bruni, won the best actress prize for her role as Beatrice.
Please read my review on Our Architecture: Paolo Virzi La Pazza Gioia
[28 3 2017]
---
I just remembered, I saw this amazing movie a few weeks ago. What was awesome was the subject matter and how the story related it through some very difficult cinematic moments. It would be hard to sit through it a second time.
[16 3 2017]
---
Look around if you like but if moral guidance were ever needed (from any historical source), some convincing lessons can be found in the New Testament:
King James Bible, John 8:7
"So when they continued asking him, he lifted up himself, and said unto them, He that is without sin among you, let him first cast a stone at her."
Jesus did not speak further on this issue because he took 'truth', as Martin Luther King said, to be self evident.
[8 3 2017]
---
"I go fishing for a thousand monsters in the depths of my own soul."
- Søren Kierkegaard
He need not have said anything else.
[13 11 2016]
---
Second Test, Hobart, Australia vs South Africa
Australia batting first made 86 in their 1st innings. South Africa were 6 wickets down for 171 runs at stumps. The second day was washed out with rain.
[13 11 2016]
---
Is today a day of infamy or the glorious new dawn? Donald Trump shocked even those already hardened by Brexit, by winning the US presidential elections, seemingly against all odds but Hilary Clinton, who apparently spent three times as much in trying to get the required quota of votes, would have known all along that she had a formidable opponent.
Those who cannot accept this result have gone out on the streets to protest what is only the true result of the great American democratic system. It is an apt name for a certain type of American: Trump.

[10 11 2016]
---
In the grand narrative of European Union, somewhere there is a mention of the common destiny. This inevitably singular pact between nations has been made to seem as the collective wish of all European people. Evidently not, going by the Brexit vote that is supposed to have shocked everyone. If it was shocking it was not a sensation that everyone shared, given a majority among those who voted wanted out. The EU may be perceived as a big brother but those national 'sovereign' economies geared into the general economy of a free tariff trading zone, it cannot be easy to try and weasel out of commercial deals.

[8 11 2016]
---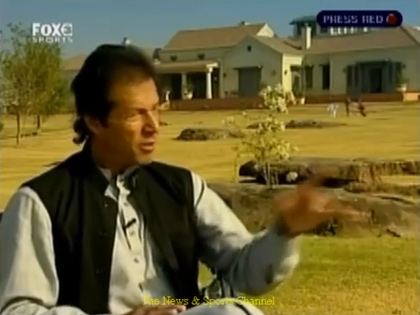 What I found interesting about this image 'printed' from a Youtube broadcast was not what Imran was saying about Inzamam-ul-Haq but the splendid house with its perfectly manicured 'dry' style garden behind his shoulders.

[15 4 2016]
---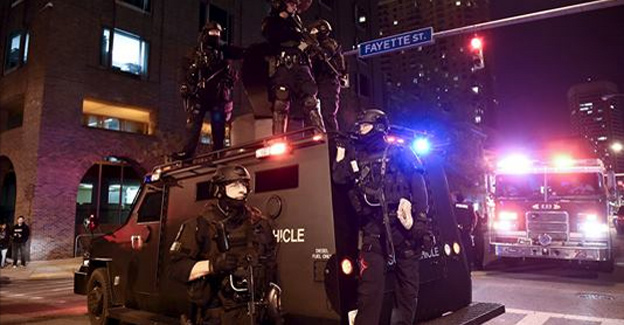 I think we've suspected all along that the USA is essentially a police state, guarding the prosperous class against all the rest. But then, the police forces of all the nations in the world, to a certain extent, protect the upper economic classes against the rest. Thou shalt not steal.

[30 6 2015]
---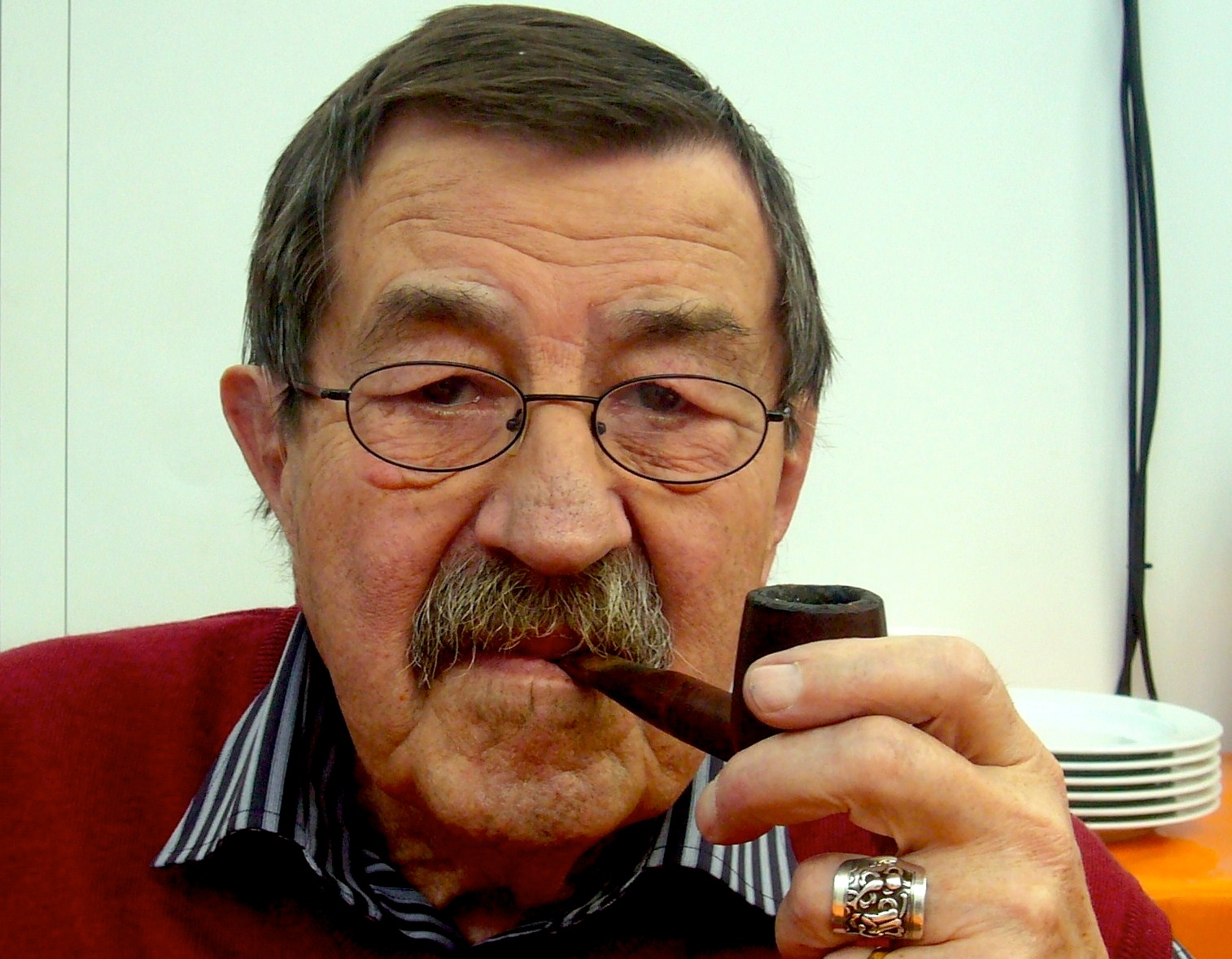 Quote: - Günter Grass, best known for his novel The Tin Drum, has died at eighty-seven. "Grass learned a lot from Rabelais and Celine and was influential in development of 'magic realism' and Marquez," Orhan Pamuk said about him. "He taught us to base the story on the inventiveness of the writer no matter how cruel, harsh, and political the story is." -

[14 4 2015]
---
Afghanistan shock Scotland in final over
Afghanistan beat Scotland by one wicket with three balls to spare to claim their first World Cup win.
By Stephan Shemilt, BBC Sport

[26 2 2015]
---
Architecture is a moral imperative
Even as we wish for a better quality of architecture, how could this actually come about apart from the mere force of the wish?
What was that parable about the 'eye of the needle'?
Well, it does seem to be that kind of a challenge and yet these days, less and less confess to being at heart Christians. It is not strictly a part of the Christian doctrine to build better cities, yet, people live in cities, benefit by it and suffer by it like all other circumstantial impulsions so the moral doctrine must perforce consider the impact of architectural form on the individual consciousness.
[24 11 2014]
---
VITAE SUMMA BREVIS SPEM NOS VETAT INCOHARE LONGAM
(The brief sum of life forbids us the hope of enduring long - Horace)
THEY are not long, the weeping and the laughter,
Love and desire and hate: 
I think they have no portion in us after
We pass the gate. 

They are not long, the days of wine and roses:
Out of a misty dream 
Our path emerges for a while, then closes 
Within a dream. 

- Ernest Dowson
[6 11 2014]
---
Preface of 'Les Misérable'
"So long as there shall exist, by reason of law and custom, a social condemnation, which, in the face of civilization, artificially creates hells on earth, and complicates a destiny that is divine with human fatality; so long as the three problems of the age—the degradation of man by poverty, the ruin of women by starvation, and the dwarfing of childhood by physical and spiritual night—are not solved; so long as, in certain regions, social asphyxia shall be possible; in other words, and from a yet more extended point of view, so long as ignorance and misery remain on earth, books like this cannot be useless." - Victor Hugo
[23 9 2014]
---
Beauty - a thought
In a difficult world one has to make choices. Mainly because it works for me, I abide by the definition given by the poet John Keats: Truth = Beauty. That is what he wrote but he did not offer an equation for the opposite so one can only infer: Ugliness = ? If Caravaggio killed someone that was a weight on his conscience but when he painted, I believe he painted true. That was something he shares with my conscience. A comment placed on Facebook: (https://www.facebook.com/architectural.orders.9)
[10 9 2014]
---
Directing
"First of all, directing is an idea that you have of a total flow of images that are going on, which are incidentally actors, words, and objects in space. It's an idea you have of yourself, like the idea you have of your own personality which finds its best representation in the world in terms of specific flows of imaginary images. That's what directing is." (Abraham Polonsky from 'Directing Film' by Ed Sherman, 1976)
[14 7 2014]
---
Modesty vs Identity
The substance of conviviality is the fundaments, not ego. Boasting is not the point yet one must be quietly confident about one's place in the world. If not, there is every danger of being usurped, either by brashness or else an excess of reticence interpreted as general incompetence.
[27 5 2014]
---
Labour
You really have to 'feel' the calling to an art or vocation. Otherwise rich, poor or medium, your life is, in effect, a doldrum.
[28 4 2014]
---
Vote Labour
"The long files of dock labourers carrying on their backs hundreds of tons of grain to fill the iron bellies of the ships in order that they themselves might earn a few pounds of this grain to fill their own stomachs, looked so droll that they brought tears to one's eyes. The contrast between these tattered, perspiring men, benumbed with weariness, turmoil and heat, and the mighty machines glistening in the sun, the machines which these men had made, and which, after all is said and done, were set in motion not by steam, but by the blood and sinew of those who had created them - this contrast constituted an entire poem of cruel irony." (Maksim Gorky from 'Chelkash', 1895, translated by J. Fineberg)
[28 2 2014]
---
The FBI
Interviewer: Who would you be more nervous of: the FBI or Hell's Angels?
David Crosby: The FBI, definitely. Hell's Angels you can reason with.
[28 2 2014]
---
A tournament that could be managed inside three weeks by staging more games at one time, especially the group matches, drags out to over six weeks. This is all because Television Rights is designed to minimise investment (less camera set-up costs at max two venues or single venue per viewing time) and maximise profits (audience concentration). For cricket fans, it is a bore and using the 50 over format as a measure of greatness, it is not necessarily the best team who wins the cup in the end but the luckiest. That, folks, is modern sports finance.
[26 2 2014]
---
The Boxer
"The great strength of a fighting man is his pride. That was Young Rocco's strength in the rounds that followed. The boy called Kid Class couldn't keep him down. He was down in the fourth, twice in the fifth, and again in the seventh. In that round he stood with his back against the ropes, standing the boy off with his left in the seconds before the bell. He had the trick of looking impassive when he was hurt, and his face at the bell looked as impassive as a catcher's mitt."
Nelson Algren 'He Swung and He Missed' 1942
[16 1 2014]
---
Mug Shots
In the midst of these high profiled charismatic women, there is the caricature of Francois Hollande's personal life. It explains in part why it is, in his case, very much related to his public role despite his pathetic appeal to the press to leave his 'private' life alone. He evidently has a weakness for persuasive aggressive women. We do not want to invade his privacy but the revelation has created an impression of someone who cannot manage it at all well, unlike his genuinely romantic predecessor.
[16 1 2014]
---
Jacques Kallis
http://www.bbc.com/sport/0/cricket/25541404
"So impervious was he to the relentless sledging that Australian batsman Greg Blewett asked Kallis whether he was deaf." Sam Sheringham, BBC Sport

[31 12 2013]
---
Morals, Ethics
To paraphrase Kierkegaard, what matters is how one acts, not what one knows except in the case where knowing is a necessary precursor to the act. What is arguable is Kirkegaard's emphasis on the individualising of purpose and truth, stuff which can be personalised only up to a point. Yes, for one's own happiness it is crucial to be truthful about purpose. Yet, one must ask what it serves. According to Kirkegaard, God is limited in his powers. He can only guide the individual conscience. It is a presumption that we are innately aware of rights and wrongs but without first assuming this as a given, no ethical model can function.
[24 12 2013]
---
Splash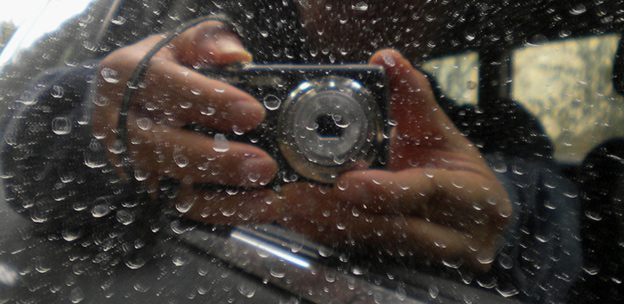 Inverted Self Portrait, 29.10.2013
Nikon Coolpix, cheap version, serving me since 2010
[4 12 2013]
---
Today
The date today is the 1st of October. In eighteen days I shall turn 56 in years.
The day has been fine so far. At this very moment I am sitting outside a bar. I am breathing the smoke coming from the direction of a guy about two metres to my left. He is holding a cigarette. I just saw my colleagues, who were coming to pick me up, rush past the point where they should have turned. I will wait to see what happens next.
[1 10 2013]
---
Ferrari Drivers
When Michael Schumacher arrived at Ferrari. he didn't want an in-house rival. While Eddie Irvine, Rubens Barrichello and Felipe Massa were quick at times, they were not of his class. When Kimi Raikkonen arrived to succeed Schumacher, he simply assumed he was on equal terms with Felipe Massa, concentrated on the sport and rewarded himself to a world championship. Relishing his equal status, Massa's confidence grew to the point of challenging for the championship himself in the following season. He came a desperately close second to Lewis Hamilton by a point. When Fernando Alonso arrived, he insisted on a priority status and Massa has felt the pressure of being a side-show. After three frustrating seasons, forced to play lackey, he leaves Ferrari with his career in tatters. Michael Schumacher thinks that the rapport between Alonso and the returning Raikkonen in 2014 will be "explosive" for the team. Perhaps Schumi and Alonso together would have been a problem but Raikkonen is not an egocentric athlete. Going by the record, Alonso is the unknown part of the equation. In recognition of his 2007 world championship with the team, there is a street named 'Viale Kimi Raikkonen' at Maranello, an honour that still eludes Alonso. Raikkonen is his own man. Since his return to Formula 1 last season, despite his still taciturn manners, he has only consolidated his charisma and his reputation for fairness and capability. Scuderia Ferrari's reappraisal of him is a case in point.
[18 9 2013]
---
Perversity
"The heart prefers to move against the grain of circumstance; perversity is the soul's very life."
- John Updike (from Assorted Prose, 1965)
[10 7 2013]
---
Being Myself
I have often thought that I am at my most serene when for some durations I can forget my own notions of who I am. So for me the oft given advice in modern times, "Be Yourself", only serves to return my mind to the perennial dilemma, "Yes, but who am I?"
[10 7 2013]
---
Imitating
"I've been imitated so well I've heard people copy my mistakes.."
- Jimi Hendrix
[10 7 2013]
---
A New Kind of Mercedes Benz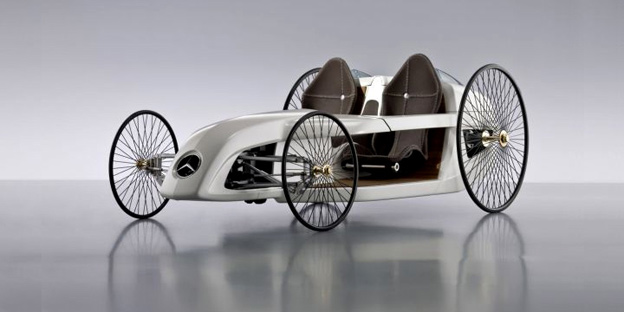 [10 7 2013]
---
Beauty
I would add that whilst I agree with Winckelmann about its mystery, it is also something universally recognisable. I disagree with the rumour that it is something in the eyes of the beholder, suggesting it is up to subjective interpretation. No, Beauty is not a value. It is a word. A thing of great beauty is first a thing before it is beautiful. It ought to be loved for itself, not just for the effect that invented the word.
[4 7 2013]
---
Beauty
"Beauty is one of the greatest mysteries of nature."
(Winckelmann in The History of Ancient Art, 1764)
[4 7 2013]
---
Beauty
Beauty is not a value. It is a word. A thing of great beauty is first a thing before it is beautiful. It ought to be loved for itself, not just for the effect that invented the word.
[17 5 2013]
---
Taeho 1977
I worked at the Norwood drive-in bottleshop for a period. Along with a dozen 5 litre bottles of cheap wine, a dozen boxes of 15 to a dozen packs of Southwark and West End beers were packed tight into the backs of the Holden utes... same ones every Saturday.
[17 5 2013]
---
Germs
"The authorities of this district are exploiters and are also unconditional instruments of the exploitation by the bosses. The rural districts are the small cells of our nation where the germs of evil are first incubated; I am sure that if in each of these diminutive communities we could manage to radically uproot the evil in all its extensions, we should manage to constitute a true democracy full of justice and liberty."
(Ciro Alegría, 1941 from Broad and Alien Is the World)
[3 5 2013]
---
On Being a Painter
"Let no one doubt, that the man who does not perfectly understand what he is attempting to do when painting, will never be a good painter. It is useless to draw the bow, unless you have a target to aim the arrow at."
(Leon Battista Alberti from De Pittura)
[3 5 2013]
---
Kafka's Take
Kafka wanted to say that a human being is in a constant state of conflict between what he thinks he ought to be and what he is. What he ought to be is conditional on his relationship with the society into which he is born. What he actually is, is a given.
[3 5 2013]
---
Prime Minister Enrico Letta
The chips may be down but with an uncommon display of good sense by Italian politicians, once again the ferocious Bundesbank Spread has been tamed. Italy may be confused politically but socially and culturally it remains quite cohesive. Enrico Letta may be an excellent choice to lead the grand-coalition government not just because of the air of competence but he also seems to provide a much needed change of image. His articulate, serious manner is typical of what many Italians are really like, at least as can be perceived: well-humoured, eloquent and self assured. The political experiment which comes about as an exercise in compromise, has nonetheless resulted in a cabinet of ministers that balances political exigencies with a great depth of expertise; probably the best cabinet Italy has had in years. If it works, as one hopes, democracy might be reborn in a more palatable form replacing the ideologically founded, adversarial model which seems to have become, of late, rather nonsensical.
[30 4 2013]
---
F1-2013: Malaysian Grand Prix
Team orders should be allowed only towards the end of the season if one of its two drivers is effectively out of the running for the championship. What the Red Bull and Mercedes teams did in ordering their respective drivers to hold their positions effectively ended any interest in the race with several laps still to run. Doing this suits their technical objectives but they did not do the fans any favours. I don't think Sebastian Vettel needs to feel contrite at all (not sure whether he really does anyway) and Nico Rosberg must be feeling rather pathetic. Rosberg showed why he has won only one race and Vettel simply did what champions do i.e. try harder than others to win - intimidation of rivals. I mean can you imagine the likes of Senna or Prost following team 'orders'? Come off it, Formula 1 is the most aggressive of sports and perhaps the most unfair. Mark Webber should tighten up his mental attitude, not trust others and learn how to sew up a result. As the elder statesman on the grid, he should know the game by now, surely. Why did he let himself be overtaken anyway? If you are that good Mark, stop complaining and simply demonstrate it and if you just happen not to be one of the greats, stop complaining anyway.
[25 3 2013]
---
<

F1-2013: Kimi Raikkonen's Easy Victory

Kimi Raikkonen won the Australian Grand Prix, the first race of the 2013 season. It was his second win for Lotus Renault and his twentieth grand prix victory overall. Beaming with confidence he said that it was his easiest ever.
[18 3 2013]
---
<

They found me at the end of the world

"Mi hanno trovato alla fine del mondo" - Papa Francesco I (Jorge Maria Bergolio)

[13 3 2013]
---
<

In the Morning

It's an odd thing about domesticated living that the day doesn't begin until one has washed the face.

[5 3 2013]
---
<

"I make no conscious effort to be tough, or hard-boiled, or grim, or any of the things I am usually called. I merely try to write as the character would write, and I never forget that the average man, from the fields, the streets, the bars, the offices and even the gutters of his country, has acquired a vividness of speech that goes beyond anything I could invent, and that if I stick to this heritage, this logos of the American countryside, I shall attain a maximum of effectiveness with very little effort." (Cain in preface to Double Indemnity)

[11 2 2013]

<
---
Novelty

They used to say that there is nothing new under the sun. These days all we look for is newness - a paradox if the former statement is true - since it would mean that in the end we are all busy looking for nothing. Is it any wonder then that no one understands economics anymore and a lot of things just seem to go up in smoke?

For something fresh, listen to Cibelle:


[1 2 2013]

<
---
The Industrial World
Nobody understands where architecture comes from so we do the best we can inside the limitations of the scope of a particular edification programme.
Thus contemporary western architecture reveals that people no longer live together but apart in separated worlds created with their own specific programmes of spaces and functions.
The larger world exists as a conglomeration rather than as an amalgamation of these separate ones. This incoherent assembly of individualised worlds looks - if not ugly - somewhat lonely.
[23 1 2013]
---
The Notion of a Christmas Tree
HAPPY NEW YEAR!


Foligno, 23.12.2012

[9 1 2013]

<
---
The Guilded Cage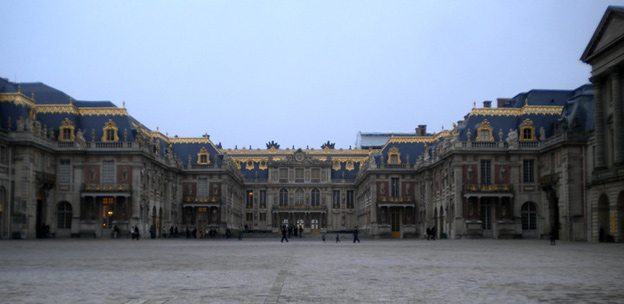 Versailles Palace Frontage: It was the 17th of November 2012, which by some mysterious turn of fortune found ourselves at the Versailles Palace. That is the author, Enzo Margheriti and Toto Piscitello.
The French Revolution ostensibly stood against the opulence but thankfully the rebels spared it. It is no doubt a folly, excessive, superficial, perhaps even stupid, and yet it is simply magnificent.
[21 11 2012]
---
A thing in itself
Beauty is not a value. It is a word. A thing of great beauty is first a thing before it is beautiful. It ought to be loved for itself, not just for the effect.
[15 11 2012]
---
Kimi Raikkonen Wins for Lotus

"I'm happy but nothing to jump around about," said the sporting Raikkonen in his usual laconic manner, acknowledging that with Sebastian Vettel's gaining third place, he was out of contention for the world championship and also that it was a lucky win caused by the retirement of Lewis Hamilton, who was leading the race forcefully from Raikkonen. Still, being at the right place at the right time to benefit from others' mishaps takes some doing, in these days of Formula 1 where the possibility of winning depends evermore on the mechanics of the car itself. However, it is also true that the better cars are in the hands of the better drivers. In what has been an unpredictable season, he had come close to victory on more than a few occasions. The car has been inconsistent but on certain tracks, it has been the revelation of the season. It must be a relief for him to have claimed at least one victory in his first season after a two year break. His manners both on and off the track, taciturn but fair, are more like those of drivers of another era. The sight of Raikkonen taking the chequered flag on the superlative new racetrack at Abu Dhabi in a Lotus, one of the great historical names in motor racing, would have brought a wry smile to the late Colin Chapman.

[5 11 2012]
---
Il Professore
Last night, I played with my band at a place called Hop Mill, Casco dell'acqua. There was an avuncular chap who kept on calling me "Professore". I don't know whether it was the way I was dressed or the way I sang, but at 55, it's gratifying to be given some kind of recognition at last.
[19 10 2012]
---
Franz Kafka
Thanks to a certain Max Brod, we read him. Kafka asked Brod to destroy all his manuscripts after his death but Brod ignored this request and published the unfinished novels 'The Trial, The Castle, and 'America'.
[4 10 2012]
---
Biscuit
It's amazing what one learns. Last night I was by the window smoking when my 'paesani' Cathy and John called out and we all went to have a drink. We were enjoying the cool night air when at a certain point John explained the origin of the word 'biscuit'. He said in the old days making biscuits was like making bread except after it had baked, it was dried out in slow heat. 'Pane bis-cotto', which in Italian literally means 'bread cooked twice'.
[29 8 2012]
---
Romantic Hero
"About half a century ago, an Irish novelist, Charles Lever, wrote a story entitled A Day's Ride: A Life's Romance. It was published by Charles Dickens in Household Words, and proved so strange to the public taste that Dickens pressed Lever to make short work of it. I read scraps of this novel when I was a child; and it made an enduring impression on me. The hero was a very romantic hero, trying to live bravely, chivalrously, and powerfully by dint of mere romance-fed imagination, without courage, without means, without knowledge, without skill, without anything real except his bodily appetites. Even in my childhood I found in this poor devil's unsuccessful encounters with the facts of life, a poignant quality that romantic fiction lacked. The book, in spite of its first failure, is not dead: I saw its title the other day in the catalogue of Tauchnitz." - George Bernard Shaw, from the preface to 'Major Barbara' entitled 'First Aid to Critics'
[14 8 2012]
---
Facebook
It might be full of flummery as my friend observes below but it is also entertaining. I've been trying to work out why and what I observe is that the medium is designed to bring out individual obsessions. In part this is because the first question it asks is: What's on you mind? I have around a hundred and forty Facebook friends and amongst these there is only a handful who regularly put up posts insisting on sharing with me their world views. Strung together hour by hour they become melodramatic like little installments of a soap opera; somewhat ordinary but also quite intimate and so by extension compulsively engaging as the lives of others naturally are.
[26 7 2012]
---
Cazzate
"Facebook è una grande fabbrica delle cazzate." - Toto Piscitello

[ Facebook is a great big factory of flummery. ]
[27 6 2012]
---
Religion
Wittgenstein theorised that philosophical problems are caused by confusions in language. Think about the word 'religion'. This word causes nothing but trouble because everyone has a take on it. I remember many years ago an evangelist said to me, rather earnestly, "Christianity is not a religion. It is a personal relationship with God." At the time it sounded like a sales pitch but I think she was right.
[14 6 2012]
---
The One True Sportsman

"Qué es eso frente al amor de cinco millones de cubanos!" - Teofilo Stevenson

The late great cuban boxer's comment as he refused the five million dollars offered to him by promoters to fight Muhammad Ali: "What is that (five million dollars) compared to the love of five million cubans!"

[12 6 2012]
---
On Frank Gehry and the Eisenhower Memorial
My comment of the Facebook page of Steven Semes
Dwight D. Eisenhower remains such an enigma. The person was less important the roles he conducted with a maximum of dignity. Yes, Americans believed in dignity - that's why they became the world's hope. When his troops landed in Normandy, humanity knew that they would breath again and order would be restored. Thus what Eisenhower represents is Apollonian. Only a classical building will do his memory justice. Gehry challenged modernism by dismembering its pretensions to reason but in doing so he had to defend chaos as a virtue. His biggest mistake was taking on the memorial in the first place. A pop star does not have the strength needed for opera. He is all at sea when faced with real notes. His bubble has thus burst. Mr Eisenhower, thank you.
[10 6 2012]
---
Austerity Measures
I was reading somewhere that severe austerity measures insisted on by successive governments were what eventually brought down the Weimar Republic. A decade long attempt at democracy in Germany collapsed undermined by a number of unresolved inner conflicts within German society at the time. While most are thinking that Greece has an 'economic' problem, who has plans to solve the 'real' problem?
[4 6 2012]
---
Trust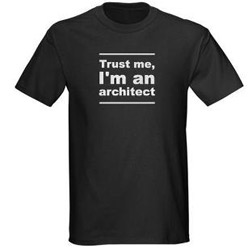 The photograph of the T-shirt is from the Facebook page of the architect and scholar, Steven Semes. It inspired this comment: Trust is a funny word for an architect to use in describing himself. It implies faith and faith implies mystery rather more than certainty.
[24 5 2012]
---
Bag Man
There goes the bag man. He's probably a nice fellow but why is he always carrying a bag?
[15 5 2012]
---
Dystopia
"Knowledge is a deadly friend if no one sets the rules. The fate of all mankind I see is in the hands of fools." - Peter Sinfield, from Epitaph, King Crimson
[15 5 2012]
---
On Thinking
Whatever he is thinking, it's not what we think he is thinking.
[11 5 2012]
---
Prejudice and Pride
To prejudice, it seems that most human beings are predisposed to respond with pride. In reality the only way to combat prejudice is to point out one's most serious human defects. In the face of such an exposé, the fact of one's age and gender, that one is coloured, that one is homosexual, fat, or that one smokes, might well seem trifling by comparison.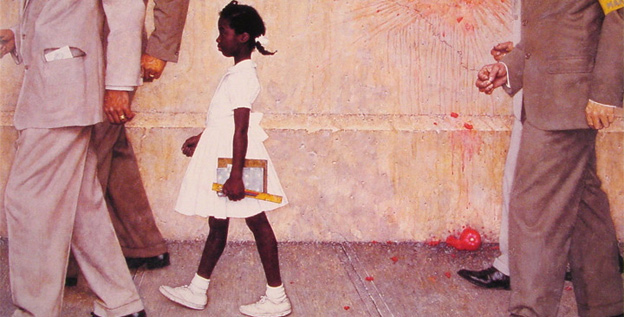 Detail from a painting by Norman Rockwell
[18 4 2012]
---
Let me say
Let me say that the contents are separated into work and play. In this kingdom of the Man of knowledge, it seems the only way.
[11 4 2012]
---
The Point
It was Thursday evening. It was raining. I was inside resting my ankle which I had sprained a few days before. I felt like smoking a cigarette but I had none. Smoking has become a moral issue. I like moral issues.
[8 4 2012]
---
"Food becomes less intimate the more intensely it is made to matter." - Adam Gopnik
Article by Kirk Leech: Why moralism spoils the appetite
---
"You don't make a poem with ideas, but with words." - Stèphanè Marlarmè
---
Philip Larkin On Modern Jazz
"... Larkin also wrote jazz reviews for The Daily Telegraph between the years 1961 and 1971. Most of his articles were collected in 1970 under the title ALL WHAT JAZZ (rev. ed. in 1985). Larkin was especially fond of jazz musicians who emerged before World War II. He loved Louis Armstrong, Swing and Dixieland, but John Coltrane, Miles Davis, Dizzy Gillespie, Charlie Parker, and other heroes of modern jazz were for him "ugly on purpose". According to Larkin, the term 'modern' "denotes a quality of irresponsibility peculiar to this century... I dislike such things not because they are new, but because they are irresponsible exploitations of technique in contradiction of human life as we know it."
Source: Author's Calendar
[25 1 2012]
---
The Surgeon
A young surgeon with a steady hand and a sharp tool cuts into the heart till he reaches the source of the problem to slice it out - brilliant technique on display - yet he may find it hard to find the words to describe exactly what he does. The man is an artist. While he is perfoming his task, he must not think about consequences. He must not think, as he is squeezing through the morass of nerves, that he is saving someone's life because that way, he loses his objectivity.
[24 1 2012]
---
The Poet
"The poet, I wish to repeat, is language's means for existence--or, as my beloved Auden said, he is the one by whom it lives. I who write these lines will cease to be; so will you who read them. But the language in which they are written and in which you read them will remain not merely because language is more lasting than man, but because it is more capable of mutation." - Joseph Brodsky
"Is he a saint? Tarrou asked himself, and answered, 'Yes, if saintliness is an aggregate of habits.'" - Albert Camus, The Plague
[24 1 2012]
---
The Automobile
Will the winter of discontent make glorious summer? Perhaps, if the ice caps stop melting due to the unexpected help from the reduced state of the economy. I heard on the radio an announcer, talking about the possibility of FIAT moving from Turin to Detroit, say that this was no big deal given that the automobile is, by now, a thing of the past. Well, I had to drive 70km this morning to get to work. I hope the guy is right. Then I might soon be the only one on the road and that would certainly make a glorious summer!


Alfa Romeo Mito
[10 1 2012]
---
Quote
"I am little concerned with beauty or perfection. I don't care for the great centuries. All I care about is life, struggle, intensity. I am at ease in my generation." (Emile Zola from My Hates, 1866)
[28 12 2011]
---
Old and New in Azerbaijan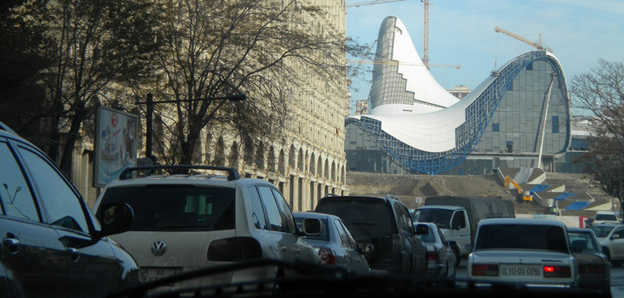 BAKU - Capital City of Azerbaijan
15th of November, 2011 and I am in a taxi with my boss, Enzo Margheriti, driving to a project site. The fanciful building going up on the right is designed by Zaha Hadid. I didn't get to find out what it was for.
[18 11 2011]
---
Kimi Raikkonen
There are rumours after Kimi Raikkonen paid a visit to the Williams Formula 1 Team headquarters in Grove (UK) that he might be back in F1 next season. This would be great thing. No doubt there might be options other than Williams for him. Formula 1 is bereft of drivers with character at the moment and his return can only be of great benefit. I don't know why he is accused of being 'wooden'. For me he is refreshingly frank and, along with that of Jacques Villeneuve, I been missing his smile on the podium. Read my article on this topic of some years back.
[19 9 2011]
---
Economy of Illusions
I heard it said that a poet is distinguished by the fact that he does not take language for granted. This might apply all the way down the line, e.g. a musician is someone who doesn't take music for granted, a gardener doesn't take plants for granted, etc. What this says is that we must not take our senses for granted, which, leads to the big picture. We take our whole world for granted and watching those tense faces on the floor of stock exchanges, one can see that they take money for granted and all the world's resources consumed that the money represents but they can't afford to care about that. In the world of illusions, making money is the only game, the only true victory.
[31 8 2011]
---
Hack a Phone
Once upon a time the phrase 'Phone Hacking' might have invoked images of someone getting to a telephone set with an axe. There was 'Phone Tapping' which might have been thought of as drumming the side of the phone set with one's fingers as one spoke or at least as a way of connecting it to the plumbing system so that something might start 'leaking'. Italians say quite drily intercettazione but neither the Italian nor the English media use the term origliare 'to eavesdrop'.
[19 7 2011]
---
The Journalist
Reporting all his life on the madness of the modern world and having made lots of money from it, he could no longer tell what was new, hear what was true nor see what next he should do.
[15 7 2011]
---
One Evening

"O look, look in the mirror
 O look in your distress:
Life remains a blessing
 Although you cannot bless."

W. H. Auden
from the poem 'As I Walked Out One Evening'
[21 6 2011]
---
The Arrest
When a man pulls out a gun and points it towards someone's head, what might be going on? I never thought I'd ever see this happen but yesterday, a group of plainclothes policemen stopped a guy driving a luxury car in the middle of a country road and did exactly that - I think I saw at least three automatic pistols being bandied about. The driver offered no resistance. He was handcuffed and laid out on the bonnet of the police car behind his - helpless and immobile like a pig on a chopping block. I was in my car stopped on the other side of the road. The cops waved me to move on. Looking straight ahead, I moved on.
[17 6 2011]
---
Defend Diversity
The more we try to homogenise the world, the worse it gets.
[23 4 2011]
---
What must I do?
I thought I was mainly concerned about my identity. I'm actually more concerned about my powers and what to do with them.
[16 2 2011]
---
Buttons
History has led us to these. What? Buttons.
[16 2 2011]
---
Seeing Time
Javier Marias, Spanish writer, a guest on the Italian talkshow, Che Tempo Che Fa, remarked that he makes a habit of doing things slowly. This for him is a way of "seeing" time. Applying this awareness, he said, allowed him to keep a bit of something that is always escaping from him.
[1 2 2011]
---
Egypt
We in the West are oggling with glee that another fatcat Dictator is about fall, maybe, but with the American eye always on the wellbeing of Israel and its desire to create guarantees for its security in the region, I think Hilary must worried about the fallout hereafter. If the Pharoah must go, he'll go but democracy ain't just about desperate people shouting slogans of outrage on the streets. Look at China and perhaps even Singapore, an autocracy that delivers prosperity is OK, no?
[1 2 2011]
---
Fears
Life's conundrums will not go away just because one studies them. One has to free oneself of fears and the unreasoned anticipations on which the fears are founded.
[19 1 2011]
---
Out of This World
Among the many men and women that I know there are; postmen, priests, gardeners, cooks, doctors, lawyers, mechanics, accountants, dentists, teachers and they all belong to one world. One thing they have in common is that they know that they live in a world not of their making. Then, well at least in Italy, there is a breed called Geometra, a kind of building logistician who doesn't really know in which world he lives in. Then there are architects who think they can live in the world if they only can make it. Then there are artists who think they are not really of the world at all.
[4 1 2011]
---
Two Towers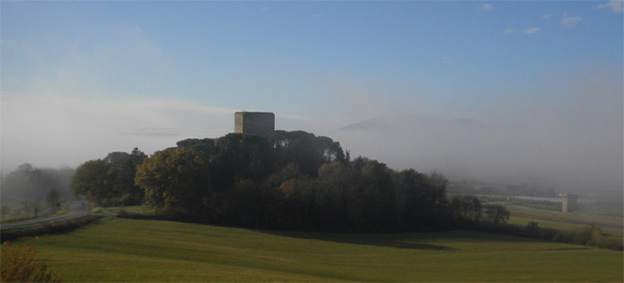 Morning View, Tuscany-Umbria border near Chiusi
[17 11 2010]
---
A poet's lament from the past:

London

I wander thro' each charter'd street, 
Near where the charter'd Thames does flow, 
And mark in every face I meet 
Marks of weakness, marks of woe. 

In every cry of every Man, 
In every Infant's cry of fear, 
In every voice, in every ban, 
The mind-forg'd manacles I hear. 

How the Chimney-sweeper's cry 
Every black'ning Church appalls; 
And the hapless Soldier's sigh 
Runs in blood down Palace walls. 

But most thro' midnight streets I hear 
How the youthful Harlot's curse 
Blasts the new born Infant's tear, 
And blights with plagues the Marriage hearse.

by William Blake 

Reference: http://chronicle.com/article/William-Blakes-America-2010/125024/
No reason nor prejudice sought.
[15 11 2010]
---
2 opinions
Italians are pretending to be flabbergasted but when Silvio Berlusconi says that he prefers to like girls than be gay, we must be very careful not to confuse the intention nor take him to be a buffoon. By doing this we just play into his hands. The clever thing about him is he knows how to manipulate generally held but undeclared prejudices. Try as people might to try and create scandals from his lifestyle, given that he does not seem to have broken any laws, he is quite open about it so there's no way of making the scandals stick. Only in Italy might this be possible but there is even a theory that he uses his enormous mediatic powers and prowess to make provocative 'gaffs' deliberately to further compound his enigma and confound his foes. If this is a political tactic, then electorally, it has not done him any harm - so far. What seems to be new is that people, men and women alike are beginning to tire of the sleeze (there is no such word in Italian). With all the troubles in the land, Italians are no longer so easily amused. On the other hand in England, there is the hapless Stephen Fry who gets into trouble for commenting on female sexuality comparing it to gay sexuality and thereby deducing that women don't 'enjoy' sex for itself. From my observations, as a generality, he is probably not far off from the truth but society seems to have found new reasons to censor opinion. Stephen Fry has every right to say how he feels. If one disagrees, well, argue but don't condemn the guy for speaking his mind for goodness sake!
[4 11 2010]
---
I'm sure I'm not sure
The meaning of 'sure' is ambiguous. It is similar to the word 'certain' but not really, in the sense that the word 'sure' approaches towards certainty but doesn't quite reach it. In common usage it is used as an expression of overt optimism: "I'm sure I'm right." or as a cover for complete ignorance: "Actually I'm not sure.", to seem to know something a bit. In both instances it might be better just to say, "I don't know." In the former instance, it is said more in the spirit of saying, "I am assuming I am right.", and in the second, "I have some information in my memory on the matter but I can't piece together a certainty." In any case, to say that one is not sure has the same effect as saying that one is sure without actually being certain, but at least there is no danger that one could be wrong. Well, I'm not sure if it's worth going on, so I'd better leave it there.
[14 9 2010]
---
Getting Upset
Why do we get so easily upset, annoyed, bothered, angry even? A mental disturbance occurs. Human nature is delicate. If this is part of our character, isn't it possible that Nature itself is sensitive? Can you imagine how mother earth is feeling right now with the pounds of foul air we pump into her lungs, the scratching over her skin to extract the materials for the things we insist we need? We are like a baby who can't get enough and keep sucking out the milk of life. If fairness is based on balance and that mostly what we need are simple nourishments, are we being fair to our life giver? A sleek Maserati just whizzed past sounding like its motor owned the world. Some people like the sound. To me the sound resembles a rather long and loud fart. Was I annoyed? Not particularly, heck, I wouldn't mind owning a car like that if I had €150,000, but it did make me think about the absurdities of the economics of modern desires.
[3 9 2010]
---